The Marshall Tucker Band
PROOF OF VACCINATION OR NEGATIVE COVID TEST REQUIRED
MASKS REQUIRED
The Paramount is pleased to present
The Marshall Tucker Band
Taking place Saturday December 18th  2021 at 8 PM
Doors Open at 7 PM
Ticket on sale now – Online Only
Ticket Prices
Row B – Row O: $59.50
Row P – Row X: $49.50
Row AA & BB: $49.50
Row CC – GG: $39.50
This include a $2 Service Fee per Ticket
(applied online, over the phone or in person)
Please be advised, there is no elevator to the Balcony
Doug Gray – lead vocals
B.B. Borden – drums
Tony Black – bass/vocals
Marcus James Henderson – keyboards / saxophone / flute / vocals
Chris Hicks – guitar/vocals
Rick Willis – guitar/vocals
The Paramount has announced that due to the Delta variant and the recent increase in new Covid cases, all audiences will be required to show evidence of their full vaccination against COVID-19 or provide proof of a negative COVID-19 test, and wear masks at all times while not eating and drinking. Guests must show proof of vaccination/negative test and government issued ID at their time of entry into the Theatre with their valid ticket. Anyone unable to show either of these items will not be admitted to this event. This policy will remain in effect until further notice and is subject to change based on CDC, State and Local guidelines. For further COVID Guidelines Click here.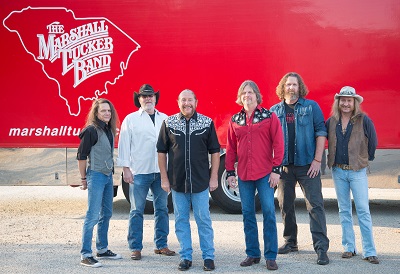 Whenever you drop that proverbial quarter into the virtual jukebox of songs that always manage to reach down and touch your soul the exact moment you cue them up, you inevitably find certain artists have a deeper resonance than others when it comes to providing the soundtrack that mirrors the highs and lows of your own life. The Marshall Tucker Band is one such group that continues to have a profound level of impact on successive generations of listeners who've been searchin' for a rainbow and found it perfectly represented by this tried-and-true Southern institution for over five decades. "I've been in tune with how music can make you feel, right from when I was first in the crib," observes lead vocalist and bandleader Doug Gray, who's been fronting the MTB since the very beginning. "I was born with that. And I realized it early on, back when I was a little kid and my mom and dad encouraged me to get up there and sing whatever song came on the jukebox. It got to the point where people were listening to me more than what was on the jukebox! There's a certain frequency I found I could share, whether I was in front of five people or 20,000 people. And once that frequency is there, everybody will listen."
The Marshall Tucker Band came together as a young, hungry, and quite driven six-piece outfit in Spartanburg, South Carolina in 1972, having duly baptized themselves with the name of a blind piano tuner after they found it inscribed on a key to their original rehearsal space — and they've been in tune with tearing it up on live stages both big and small all across the globe ever since. Plus, the band's mighty music catalog, consisting of more than 20 studio albums and a score of live releases, has racked up multi-platinum album sales many times over in its wake. A typically rich MTB setlist is bubbling over with a healthy dose of indelible hits like the heartfelt singalong "Heard It in a Love Song," the insistent pleading of "Can't You See" (the signature tune of MTB's late co-founding lead guitarist and then-principal songwriter Toy Caldwell), the testifying travelogue warning of "Fire on the Mountain," the wanderlust gallop of "Long Hard Ride," and the unquenchable yearning pitch of "Ramblin'," to name but a few. (See, we can hear you singing along to all of them in your head right now as you read this.)
Indeed, the secret ingredient to the ongoing success of The Marshall Tucker Band can be found within a cauldron of musical styles that mixes together equal parts rock, blues, jazz, country, soul, and bluegrass. In essence, it's this inimitable down-home sonic bouillabaisse that helped make the MTB the first truly progressive Southern band to grace this nation's airwaves — the proof of which can be found within the gritty grooves and ever-shifting gears of "Take the Highway," the first song on their self-titled April 1973 debut album on Capricorn Records, The Marshall Tucker Band. "We had the commonality of having all grown up together in Spartanburg," explains Gray about his original MTB bandmates, the aforementioned guitar wizard Toy Caldwell and his brother, bassist Tommy Caldwell, alongside rhythm guitarist George McCorkle, drummer Paul T. Riddle, and flautist/saxophonist Jerry Eubanks. "The framework for Marshall Tucker's music is more like a spaceship than a house," Gray continues, "because you can look out of a lot of windows and see a variety of things that show where we've been and what we've done, and how we've traveled through time to bring those experiences out in all of our songs."
The Marshall Tucker Band's influence can be felt far and wide through many respected contemporaries and the artists who've followed the path forged by their collective footsteps and footstomps. "MTB helped originate and personify what was to become known as Southern rock, and I was privileged to watch it all come together in the '70s, night after night," confirms the legendary Charlie Daniels. "In fact, The Charlie Daniels Band has played more dates with The Marshall Tucker Band over the past 45 years than any other band we've ever worked with. Even after all these years — after the tragedies, the miles, the personnel changes, and the many developments in the music business — MTB and CDB are still a viable package that offers an entertaining and crowd-satisfying show." Daniels adds that he never gets tired of seeing his MTB brothers on the road: "Whenever Doug Gray walks into my dressing room with that big ol' smile of his and then we hug each other and sit and talk for a while, the evening is complete."
"I remember seeing Marshall Tucker and The Outlaws play together in Jacksonville many years ago when I was just a kid," recalls Lynyrd Skynyrd lead singer Johnny Van Zant, who faithfully watched the MTB open for his band on a few lengthy, fruitful runs during the 2018 portion of Skynyrd's still-in-progress The Last of the Street Survivors Farewell Tour. "And I heard them all over the radio back then too. They were just so cool and so unique that I fell in love with the band, and I also fell in love with the music. Having them open for us on all those dates was like a dream come true, and they're still as good as I've ever seen them. It brought back a lot of memories for me because I really looked up to those guys when I was first starting out."
Adds Ed Roland, the lead vocalist and chief songwriter for Collective Soul, "The Marshall Tucker Band had a big influence on me growing up — and they still do." Roland, who's lived the majority of his life in and around Atlanta, also proudly points out that his band's biggest hit, "Shine," owes a clear debt to the musical structure of "Can't You See," and he'll often start off by singing the opening line to that song — "I'm gonna take a freight train" — whenever Collective Soul performs "Shine" live. "We don't want to stray from what we grew up listening to," Roland continues. "I think that's something important for people to hear. It's just who we are, and I don't think we should run from it. Hopefully, people see that connection to the bands we love like Marshall Tucker in our music."
Though Doug Gray recently turned 70 years young, he sees no end to the road that lies ahead for The Marshall Tucker Band, whose legacy is being carried forward quite reverentially by the man himself and his current bandmates, drummer B.B. Borden (Mother's Finest, The Outlaws), bassist/vocalist Tony Black, keyboardist/saxophonist/flautist/vocalist Marcus James Henderson, guitarist/vocalist Chris Hicks, and guitarist/vocalist Rick Willis. "You know, I think it was Toy Caldwell's dad who said, 'There's more to gray hair than old bones,' and we still have a lot of stories yet to tell," Gray concludes. "People ask me all the time what I'm gonna do when I turn 80, and I always say, 'The same thing that we're continuing to do now.' We're road warriors, there's no doubt about that — and I don't intend to stop." May the MTB wagon train continue running like the wind on a long hard ride for many more years to come. One thing we absolutely know for sure: If you heard it in a Marshall Tucker Band song, it can't be wrong.
—Mike Mettler, this ol' MTB chronologist